Other Accommodations in the Area
Accommodations at Camp Billy Joe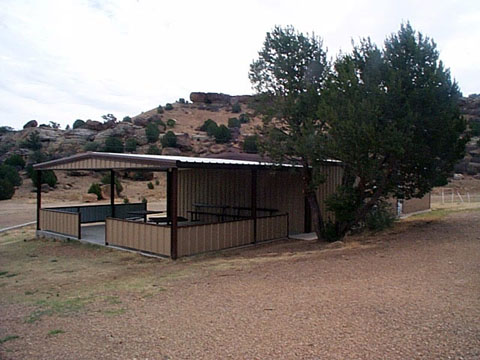 There are six insulated/heated bunkhouses with beds. These are available on a first-come-first-served basis and are provided by your registration and facility fees. One building is designated for women only and the rest are labeled for men or family use.
Tent campers, trailers or RVs are asked to set up around the perimeter of the two observing fields. The camp does not support RV hookups at this time and you cannot plug your rigs into Okie-Tex power cords or the camp outlets. If you require full hookups for your camping rig, you can arrange for these separately at nearby Black Mesa State Park 580-426-2222.
There is a large community building that houses the showers and bathroom facilities for the camp. These are available as well as portable toilets scattered near the observing fields for the comfort of our guests. This building also houses the vendor hall, registration table and the kitchen area that is used by the caterers during the day. At night it becomes the Cosmic Cafe.
Meals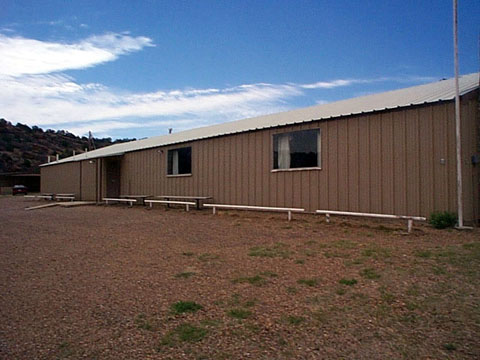 Catered breakfasts, lunches and dinners are available at the Camp Billy Joe Community Building during the star party. These meals are provided by Jody's Catering.
The meals are priced separately and are in addition to your star party registration. Breakfast is $9.00, lunches are $11.00 and dinners are $14.00. In addition, the Cosmic Cafe opens each evening from approximately 10:00 PM until 2:00 AM where you can get burgers, hot or cold drinks, snacks and other goodies. Click here for the this year's menu.
If you plan to purchase the catered meals at Okie-Tex, please send in the Meal Request Form when you register. Meal request form and payment must be received, with a postmark, no later than August 26, 2017. Jody's Catering will need an idea of how many people they're feeding, so that they'll have plenty of food for everyone. You're welcome to use the Meal Request form for your convenience.
Make your check for meals payable to:
Jody's Catering
P.O. Box 441
Boise City, Oklahoma 73933
Black Mesa State Park - 349 Park Acres, 159-Acre Lake Carl Etling, 64 Campsites and RV hookups, Group Camp Ground (capacity of 120), Black Mesa Preserve, Hiking Trail, Boating, Fishing, Playground and Equestrian Campground
Kenton - This tiny town of 17 people is the only community in Oklahoma on Mountain Standard Time.
Black Mesa Bed & Breakfast - Monty Joe and Vicki Roberts serve as your hosts. Accommodations include a ground level double occupancy room and a second story suite that sleeps 8. 800-821-7204 or 580-261-7443 www.bmbb1.com. e-mail:bmbb1@juno.com
Walker Ranch - Cerita Walker has a 4 bedroom home 3 miles west of Kenton. 580-261-7439 www.mesavalleyguesthouse.com
The Hitching Post - Bob & Jane Apple. Lodging consists of very clean and comfortable trailer homes and a log cabin. Each unit is fully furnished including the kitchen. The Bed and Breakfast has two separate bedrooms and one bathroom. 580-261-7413. blackmesacountry.net
The Hoot Owl Ranch has 2 cabins with a queen bed in each, full bath and kitchenette. Reservations are needed. 580-261-7789 hootowlguestranch.com
The Great Plains Bunk House. Reservations are needed. Call 580-426-2343 or 806-339-1359. For complete description, prices and directions visit okbunkhouse.com
Note: The Kenton Mercantile is CLOSED.
Boise City - This city serves as an anchor for a trip through Oklahoma's Panhandle. With restaurants, hotels, RV camping and shopping, modern-day travelers can prepare for their journey before setting out to explore the history of the Santa Fe Trail.
Longhorn Motel - 580-544-2596
Townsman Motel - 580-544-2506